Spinach is now grown year round in New England.
The next day, this dip is great cold. Before cooking, it was also good. After cooking, at first, it seemed to have lost flavor, but after sitting 10 minutes or so, the flavor was good.

Use as a dip, or make a sandwich of it with a slice of roast beef, or squash, or some fresh micro greens.
Note of caution: This has much salt – at first, out of the oven, it seemed way too salty. We did not measure the salt – maybe up to 1 1/2 teaspoons were used (ABOUT 3 generous pinches). The problem with too little, is that the salt helps drain the spinach. Less salt would be better though – it is necessary to find the balance between draining the spinach quickly enough, without over-salting. (Possibly change the procedure – using some spinach for juice, and other spinach, unsalted, for the dip itself).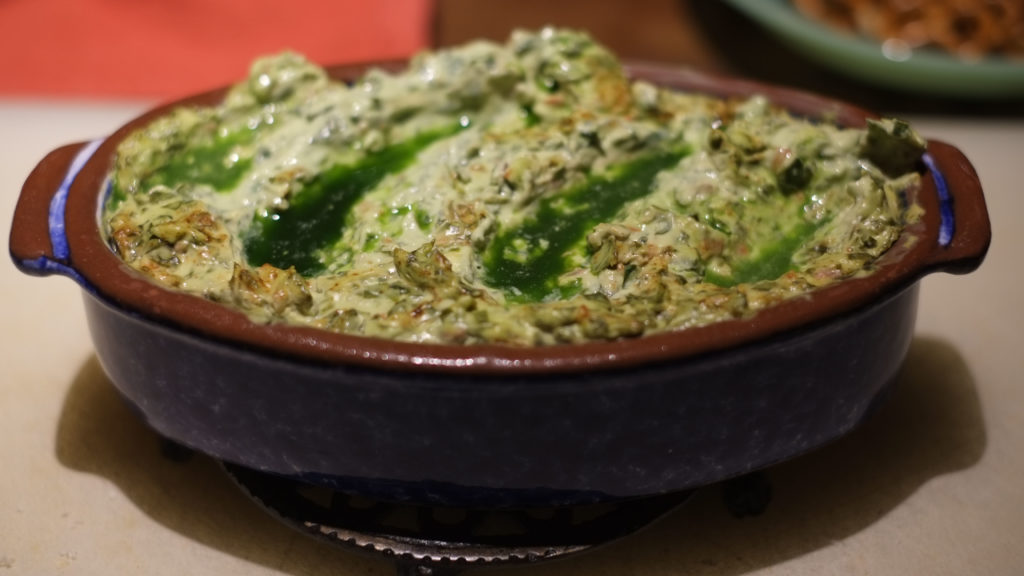 Ingredients:
1 1/2 teaspoons RED ONION
2 teaspoons of finely minced RED PEPPER

1 1/2 teaspoons of SALT (sea salt is great)- though, this might be too salty!!
5 good handfuls about of baby SPINACH, rinsed, AND NOT DRIED, and right after rinsing, then finely chopped, set into the colander (over a bowl), and layered/mixed with the salt.
1 1/2 packages of full fat CREAM CHEESE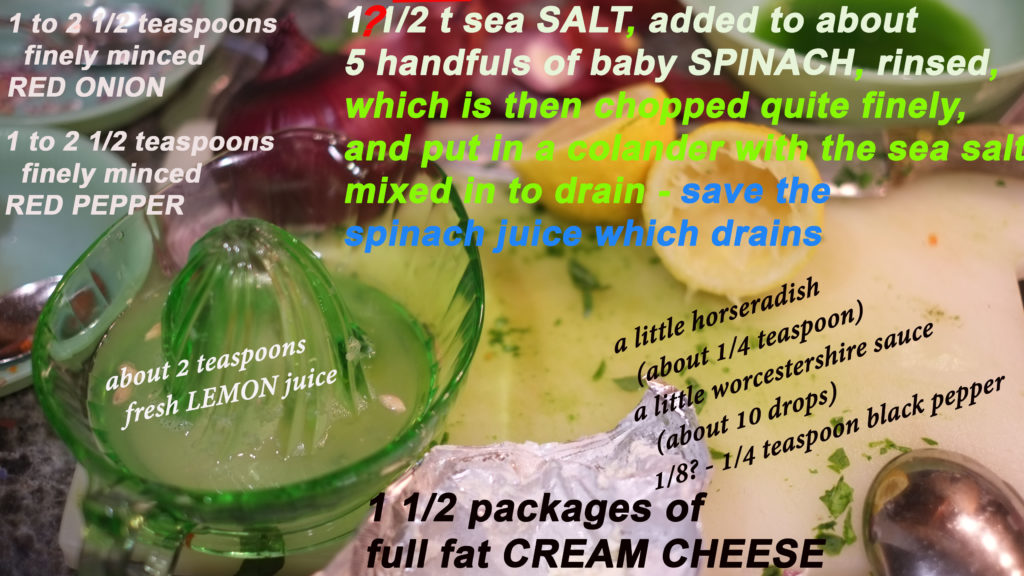 Ingredients, continued:
2 teaspoons fresh LEMON juice

1/4 teaspoon HORSERADISH
10 drops WORCESTERSHIRE SAUCE
1/8? to 1/4 teaspoon ground BLACK PEPPER – not much – please be careful when adding – start with less rather than more – I am not sure of the quantity I used – a grind or two from the pepper grinder.

almost forgot the PAPRIKA = just a bit on top, if you enjoy paprika.
Tools:
Colander (placed over a bowl)
Lemon juicer
Potato masher (though no potatos are in the recipe)
Small casserole
Place all ingredients together in a bowl (except not the spinach juice that has drained from the colander into a bowl!!), and mash together with a potato masher. Place into an oven for about a half hour on Bake at 325 degrees F or (a toaster oven is perfect). With a spoon, make a few gentle arcs, or other design, then spoon in ponds of green spinach juice!! Great warm, or cold.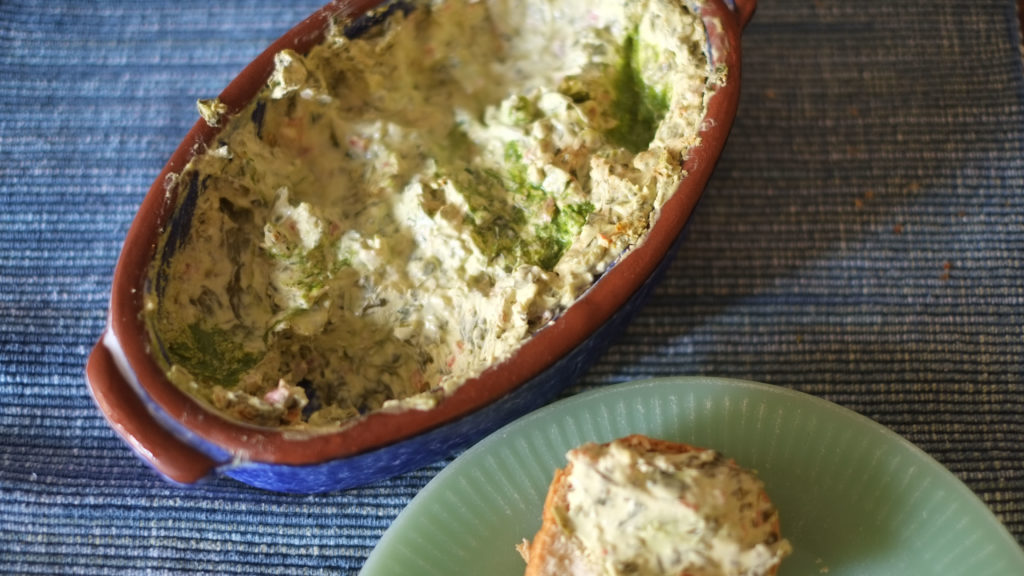 Not for dogs – it includes onion! To give your dog a few bites, leave out the onion. As always, this depends on your dogs needs – if your dog is on a special diet, especially then, check with the specialist who prescribed the diet.
Sandwich Variations with Squash: The squash can be slabbed, or slivered. Butternut, or any other variety. With additional ingredients such as slivered red pepper, or shredded lettuce and micro greens! Add cheese, or draw on some meandering aioli.


Seafood Variation: Use crabmeat instead of spinach – it is good. If crabmeat, what about the pools? There are tidal pools by the ocean with salted water and with seaweeds. I have not made the crab dip yet with "tidal pools". Maybe pooling a little salty crab juice broth with seaweed would be a possibility? Maybe with a touch of naturally died blue water, and some edible blue flowers at the deeper edge
references: https://nevegetable.org/crops/spinach