By using only an egg yolk and not the whites for cooking with, twice in the last month or so , twice then leftover raw egg white has supplied the opportunity to make something such as Meringue Cookies with. (This is a possibility that artists working in egg yolk have almost daily – depending on what else for their art the egg's whites might be used). Meringue cookies are delicious in their sugary white way and although not my favorites, they are tasty, much liked, and fun to make. The whites of only one egg make seven medium sized cookies. One egg, one week of cookies for one, or one day's cookies for a family. Meringues are more summery and cool, but they look wintry and are cool in winter too.


If making a pound cake, or painting with more than one yolk, an Angel food cake might be appropriate. So, with many egg whites to put into a recipe, there is reason to eat cake ( a cake so light angels might eat it and yet achieve flight). With one egg yolk, there is motivation for Meringue cookies, and probably many other delicacies – frosting for sugar cookies, for example.

How about carrying Meringue Cookies when back-packing? Well, they are sugary, but as small treats (maybe make 14 instead of 7, or even more), they will not add much weight for a climb up a mountain, and it might be fun to eat meringues amongst clouds. The cookies do have the goodness of what goes in them other than the sugar. (And maybe a bit of sugar is healthy?). They are not dense, so calorie:pack space would not be optimal for long trips it seems (unless they act as a place-saver for something added later to the pack).
TOOLS:
1 small bowl
1 small whisk (optional)
1 hand beater
1 small knife and cutting board
1 piece parchment paper (bleached or unbleached)
1 baking tray
oven set to 220 degrees Fahrenheit (104 C) for baking (or a bit higher, possibly depending on size, or on how long they are cooked, then left to set in the oven after )**

INGREDIENTS
1 egg white (extra large, or maybe about 2 small, though, even the egg white of one small egg ok – just make smaller cookies)
1t lemon juice
1/4 cup (?about that) confectionary sugar
2T of chopped candied lemon peel (optional) – or perhaps grated and dried peel
**NOTE ON TEMPERATURE: For a comparison with baking meringue, for fun, just to understand a bit more about cooking and food that is light of water – dehydrating fruit, for example, is achieved at about 80 to 90 degrees less (at 130 to 140 degrees Fahrenheit), whereas meat I have read (I have not yet tried this) is dehydrated between 140 and 160 degrees F.
METHOD:
1.(OPTIONAL: In a bowl, whip the egg white with a small whisk. Right hand, left hand, right hand, left hand (it might not be necessary to go back and forth, changing the whisk rotation, but that is how I did it). Take 10 (a break), whisk again, another break, whisk again – then after 15 minutes or so, or maybe a half hour.


Its been a couple weeks since making these – but I began adding some of the sugar during this initial quick stirring, adding all before starting with the hand blender, and that was easy, and neat – no splatter. (So starting with a blender is fine, but may be more difficult in terms of holding the blender and preventing splatter 0f the powdered sugar and egg white).


This might work with perseverance, however, a hand blender works wonderfully and quickly, and so, get out the hand blender to finish.)

2b. Whip with a hand blender: Two minutes later tops, and the egg will be whipped into stiff white peaks.

2a.Ideally before, though I found after works, add about 1 teaspoon of freshly squeezed lemon juice. If folded in after, another few seconds of blending might be necessary.
3.Fold in lemon peel (crystallized, or dried and grated perhaps).

4.Scoop onto parchment paper (the parchment paper covers the baking tray to keep it clean). Make it any shape you would like – with or without peaks, choosing one approximate size for all. Some people make stems and caps, to assemble later into mushrooms.

5.Bake until peaks start to turn light brown. In the feature image, mine are a bit too brown for meringue cooked until just done – however, they were yet tasty.


Below, cooked for less time.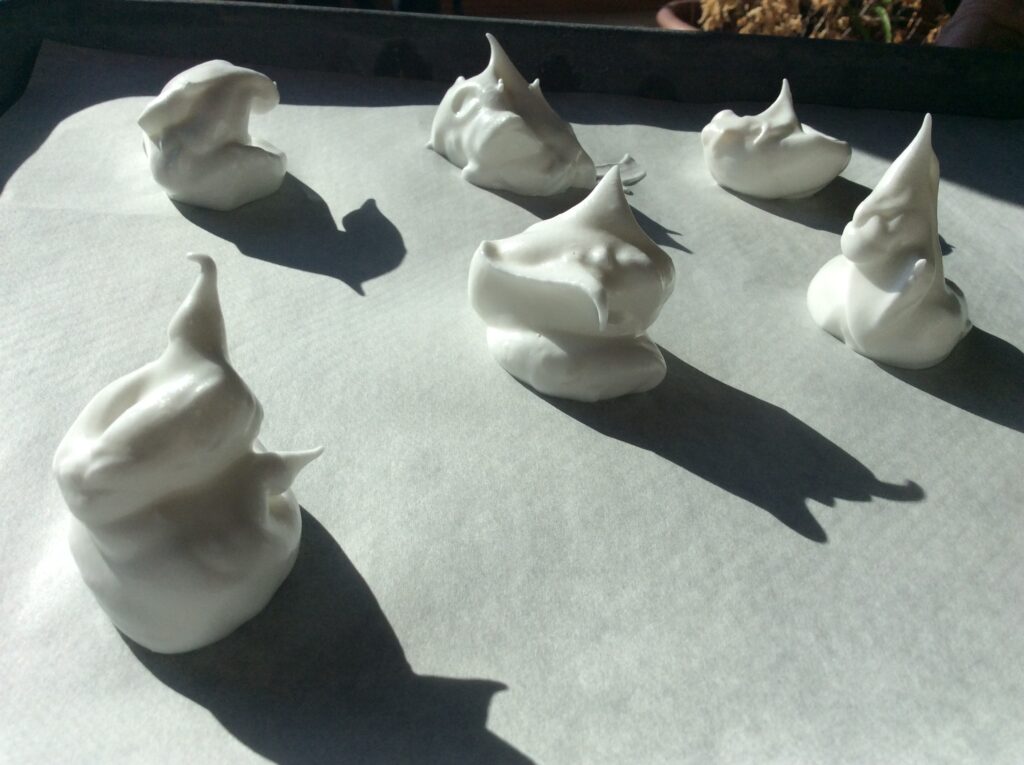 Smaller might be better for taking on hikes.
Recipe Variations:
Add some vanilla.
Add apple bits. Maybe carrot bits. Blueberry bits or juice. Red raspberry for Valentine's Day! (Happy Valentine's Day). Dry or candied flowers. perhaps a little powdered root such as marshmallow root.
Make white meringue into the heads of eagles and kites, for example, added onto a cake with grey -brown, brown-grey frosting. Make rabbits. Many options. Purposely tan or brown meringue for a brown color.
Maybe even add something salty.
Is this OK for dogs?:
Sure, however, the sugar is not good for their teeth. Sugar is found in treats, however. The lemon is generally good. The egg white is great. As always, make sure the ingredients work with your dog's diet, especially if your dog is on a special or prescription diet.