Donut Peaches! Fresh is great, and no preparation necessary – eat around the pit – sweet, flatter peaches, easy for a child to grasp. They are in markets now (end of July, early August for central NH). Or take out the pit, and have some fun and glaze them with a bit of honey, or maybe frosting (untested), and then sprinkle with flower confetti. The honey-flower-peach smells fragrant, and then tastes delicious!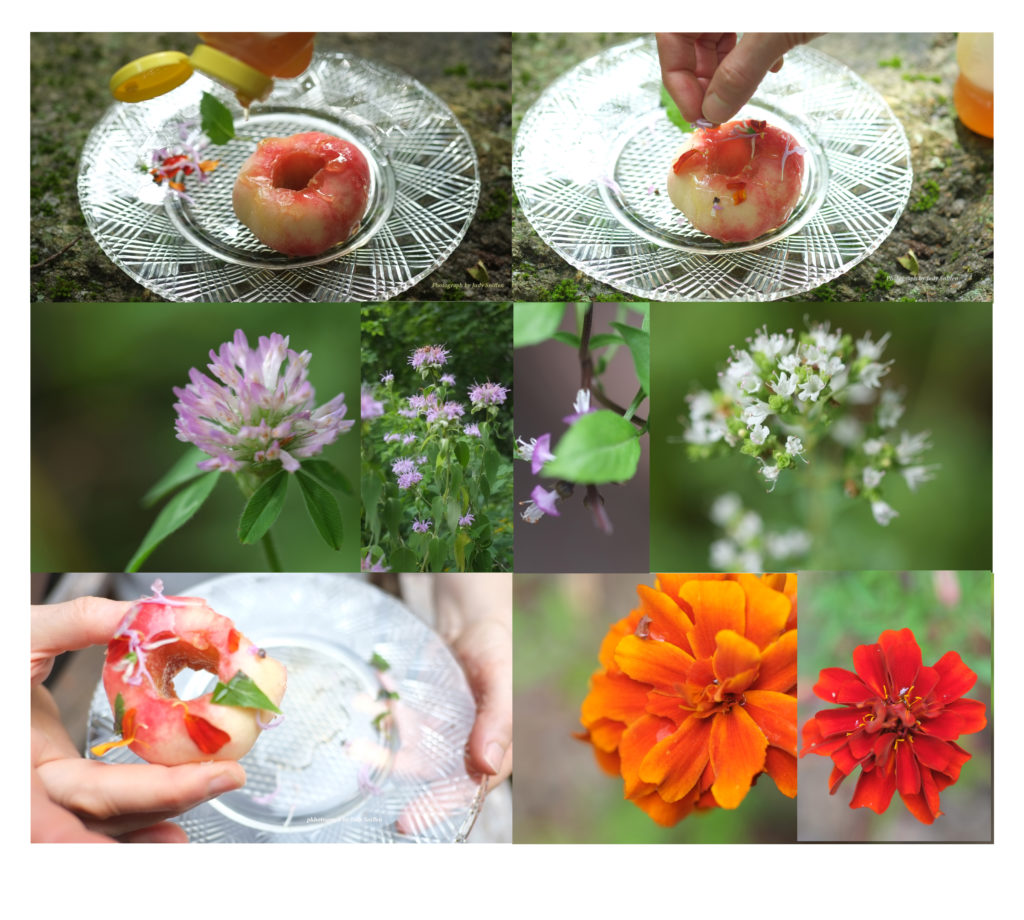 Ingredients for a donut peach with honey:
Peach Donut
Clover Honey
Bee-Balm flowers and leaves, light purple flowers, green leaves
Clover flowers
Marigold petals, red and orange
Basil flowers, white and purple – careful – the purple are a little spicy, a little fruity, reminding me of spicy jelly beans, but the white flowers that we have are quite strongly basily – due to perhaps growing conditions, or perhaps differences in basil plant flavors – so add only a very very tiny bit of the white, if you have strong tasting flowers – take a nibble of your flowers before blending.

Suggestion: For both clover and bee-balm, flower-heads are a collection of tiny flowers. For just a few peach donuts, only a few flowers are needed from the flower-heads – the rest can be left for the bees (or, dry the full flower heads for tea).

Variation: with a lemon glaze of powdered sugar, lemon-juice, and water – see below
Cut the pit from the peach to make a "doughnut". If not serving immediately, brush with lemon or lemonade in the holes. Add a wavy line of honey (or a light fruit-powdered-sugar glaze, and then sprinkle confetti of flowers over the top.

Tthe colorful confetti bits stick to the glaze – other flowers and leaves to use might be nasturtium flowers (yellow, red, or orange), rose petals (pink, white,yellow, or red…), and the green leaves of lemon-thyme for example. The honey will sink a bit into the skin of the peach, which is great. Lemon can be brushed into the center hole, if not eaten immediately, or put on other surfaces without the skin, like those cut in a circle below. Lemon is important to prevent browning. These donut peaches glazed with honey are great at room temperature – I am not sure for how long these will hold in the refrigerator.


A note on honey: honey is naturally flavored according to the flowers the bees visit – the light color and flavored clover honey used above, was excellent with the bee-balm and other flowers. Honey can also have added flavor.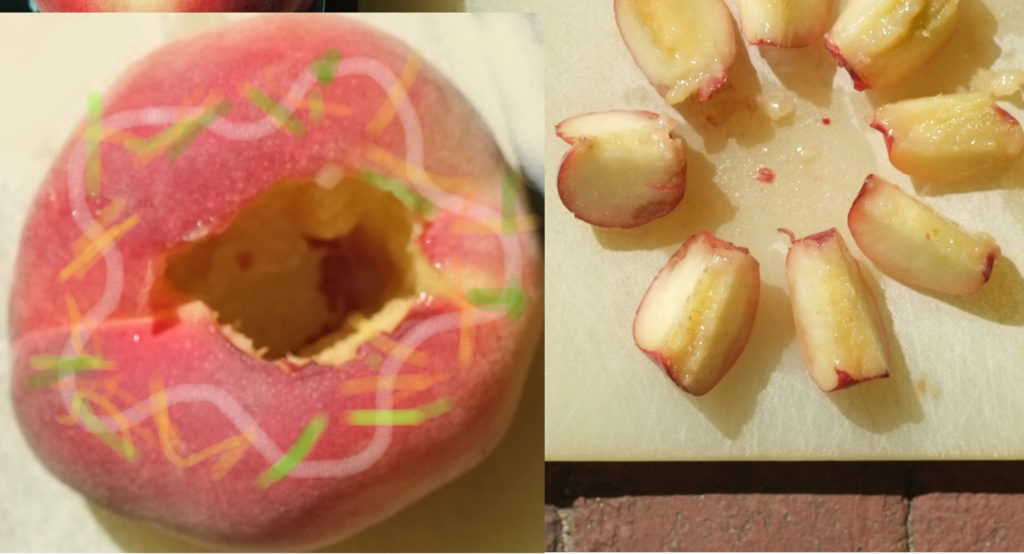 For Canines: A bite or more, if with honey, they might like, depending on whether your dog likes peaches and honey.