Donut peaches which are light and sweet are now ripe, along with local sweet corn – excellent and fresh. This recipe followed another recipe, a recipe for basil butter.
Serves: The following is a recipe for two people, or a lighter portion for three (or even for four people, depending on sides).
It is a recipe that starts with leftovers –
Leftover ingredients:
*1/2 ear of fresh sweet corn, cut from the cob
*basil butter – along with some previously made basil butter (the one used for this, yet fresh tasting though a week old, which my mother made from a recipe from Martha Stewart, for eating with sweet corn – see Basil Butter in her Everyday Food cookbook from 2006 – made with butter, basil, salt and pepper, or do a web search for this Basil Butter recipe).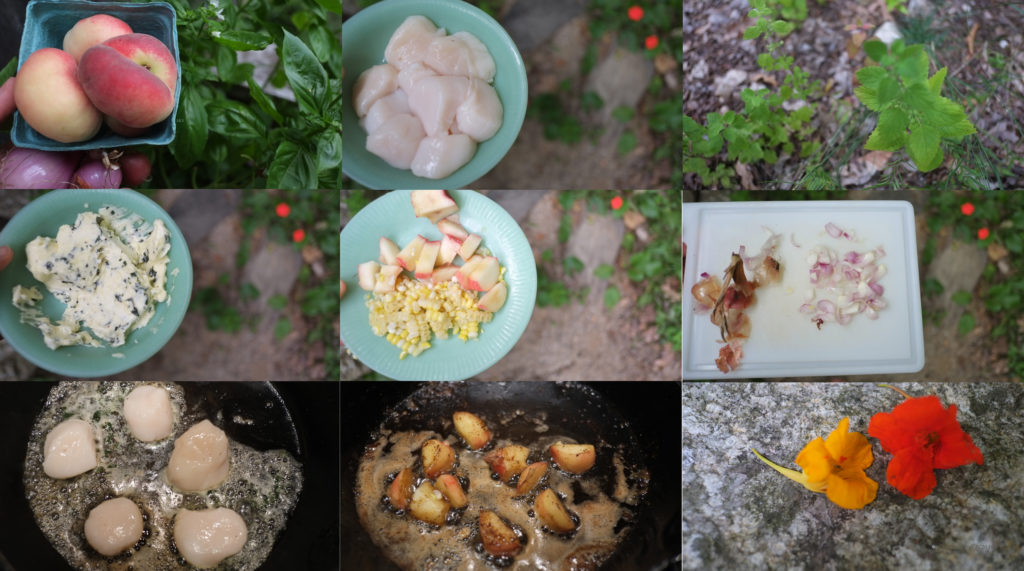 Additional Ingredients:
*10 fresh scallops from a fish market
*1 larger donut peach, sliced into about 1/2″ thick slices
*salt and pepper
*(1 very little shallot, diced. Or, maybe, and this is a big maybe, a teaspoon of a vinegar – only the shallots have been tested)
*2-3 smaller peppermint leaves (our peppermint plants are quite small)

*basil butter if none left over – use about 2 T of butter, and perhaps about 4 leaves of chopped basil, mixed with unsalted butter

Optional:
A salad of fresh greens with a vinaigrette and
*a few nasturtium flowers, on the side – delicious with the scallops!

Take a little of the basil butter (there is way too much shown in the bowl in the accompanying picture – only maybe 3 tablespoons were used, which was also too much – as the scallops did not brown quite as well as they normally do in butter), over medium to medium-high heat, lightly brown the scallops about 1-2 minutes per side, depending on heat and size (until when you push on them gently with a spatula, they are just beginning to have a slight firmness about them – you can feel the change – careful – it happens quickly).

Above is how the scallops in the photo were made. However, as they did not brown quite as well, maybe that is ok. Probably that is fine. If darker brown scallops are desired, however, then start with butter without basil to brown the scallops, and finish with 1T of melted basil butter for 10 scallops.

When the scallops are cooking, or before setting in pan, add a bit of salt and pepper to taste.

Take the scallops out of the pan, and set aside.
Next take the chopped peach chunks and fry them in the same basil butter, which should not be burnt (if it burns, or has burned, dump it out of the pan into a smaller pan, wipe, add new basil butter).

Take the peaches out of the pan, and put with the scallops.
(FOR CANINES – see below)

Next take the shallots and saute them in yet the same butter. This is probably also optional, though, I wonder, maybe if left out, if one might then add a teaspoon of a vinegar.

For the corn, well, I sautéed it, quickly, but not quickly enough – it immediately became coated with the brown butter, and as I considered that, it started popping out of the pan – if you saute it to warm it and coat it, be ready for quick.

Take the shallots and add them to the scallops and peaches, along with the corn.
Finally, add the bit of fresh, uncooked, chopped peppermint leaves (careful to not add too much peppermint – less is more for this recipe we believe – too much would be too strong with the scallops).
Sorry no picture of the meal.

This recipe is one that will be well received at this time of the year! It makes a very good meal. The peach adds a bit of sweetness, and the scallops retain their freshness of taste.
For Canines: Before adding shallots, to save a scallop or a little piece of scallop and peach to give to a canine friend, separate that bit out – dogs should not have shallots. If allergies to scallops are unknown, then less is best – start with a very little bit.).